Discussion Starter
·
#1
·
I have 7 flash drives plugged into a USB hub. I use them mostly for back-up storage of my system, music and picture files.
I was annoyed by the way XP assigned drive letters to the flash drives under
My Computer
in
Windows Explorer
. The flash drives were all mixed up. I wanted to re-order them so that the music flash drives would all be grouped together, and the same for the picture flash drives.
I found a web site with instructions for changing the drive letter assignments, but I'll be danged if I can find that same page now. What I did was go to Settings>Control Panel>Administrative Tools>Computer Management>Disk Management. And then by right clicking on each of the drives, I used the
"Change Drive and Letter Paths..."
option to assign a new drive letter to some of the flash drives, to try to get them to display in logical order.
This process worked -- up to a point -- but I ended up with a duplicate drive. Here's a screen shot of what I ended up with: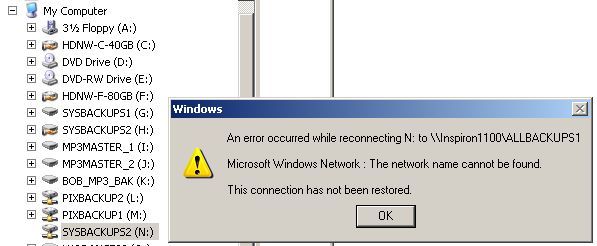 Look at drive letters H: & N: As you can see, they have identical drive names, but drive N: has no sub-directories. Not only that, but Windows tells me that that drive doesn't exist. It seems to be some kind of phantom entry.
So, how do delete it? I've tried shuting down and rebooting. But drive N: is still squatting there in Windows Explorer, giving me the raspberry. I've tried
disconnecting
drive N: which seemed to work. But as I continued to change the drive letters, I ran into more problems, with another duplicate phantom drive and mislabeled drives, e.g. a system back up drive labeled a picture back up drive and so on.
I'm wondering if I shouldn't just shut down the computer, remove all the flash drives while the computer is turned off, and then turn the computer back on and re-insert them into the USB hub one-by-one.
Would that get them display in Windows Explorer in the same order that I plug them into the USB hub?