Discussion Starter
·
#1
·
This is long, so be patient.
I was trying to install the Palm Desktop s/w for my Palm TX from the CD that came with it. It wouldn't install. I figured it was Vista, so I went and downloaded Palm Desktop & installed it.
I had some problems with syncing, so I tried re-installing Palm Desktop. Several times. [this is where I realize that I messed up]. After reading the documentation for my Palm, in order to use all the features, I *have* to install the version of Desktop on the CD. But it won't work - I think I need to completely uninstall the Desktop s/w from my computer.
So, I tried uninstalling Palm Desktop completely - and I got the infamous "error applying transforms" message. Googling that, I realize that comes from trying to run more than 1 install program at once. I read some stuff about editing the registry, but my registry did not have anything about "transforms" next to "PalmOne" like it said it would, so I left the registry alone.
Then I read to download and install
Windows Installer CleanUp Utility
(which - hey! - it's
compatible with Vista
!), which would allow me to uninstall software another way. When I tried to install the exe file, I got the following error message: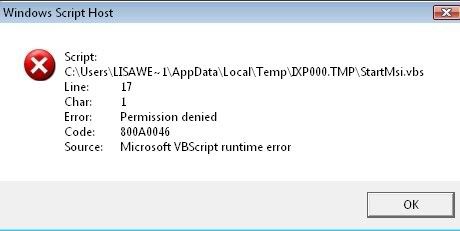 Now what?
----
Also, as a last ditch effort, I tried to log into safe mode and see what I could do there. It was the first time I'd tried to get to safe mode in Vista, and it wouldn't let me log in. Two accounts came up (Administrator & "Other User"). It kept saying my password was wrong - I tried my 3 defaults and "blank". I never set an Admin password to my knowledge. Also, who is this "Other User?" My regular account is called "Lisa" and that name & password didn't work. ????
----
Obviously, I'm in bad shape here. Please help if you can.
Thanks in advance,
Lisa